Music • Gear • Studio • Gaming • Movies
Recent Reviews
• Music Movie •
Big Star: Nothing Can Hurt Me - Read it

• Music Movie •
20 Feet From Stardom - Read it

• Sci-Fi Movie •
Avatar - Read it

• Alternative Music •
Everclear - In A Different Light Read it

• CD Music •
The Bushpilots - Seven Ways To Broadway Read it

• Live Music •
Craig Cardiff, Matthew Barber, Julie Fader - Live at Black Sheep Inn, Wakefield Quebec Read it

• Drama Movie •
Capote - Read it

• Drama Movie •
Brokeback Mountain - Read it

• Drama Movie •
Syriana - Read it

• Live Music •
Jim Bryson, Justin Rutledge - Live at the Black Sheep Inn, Wakefield QC Read it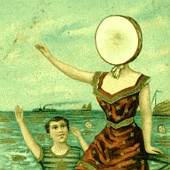 • MUSIC REVIEW (Alternative) •
Neutral Milk Hotel
In the Aeroplane Over the Sea
Label: Merge/Touch & Go Released: 5/5/1998

Forget all those other cd's I've told you about. Neutral Milk Hotel's "In the Aeroplane Over the Sea" is the best album I've bought this year, which is good because maybe now I can stop spending all my money on music.

I'd never heard of them before and was afraid they might be some clever Phish type band, full of good musicians with nice personalities. But instead I found small songs with interesting instrumentation, (guitar, bass, drums, horns) and pleasant melodies. Neutral Milk Hotel ROCKS even when there's only an acoustic guitar and vocal. Oh yeah and they sing about semen, a lot.
•Mike Lawson (TuneVault Staff) Email WWW
Back
Join the TuneVault.com mailing list!

Privacy Policy

TuneVault.com and all contents are
©1999-2006 TenVolt Consulting Inc.