Music • Gear • Studio • Gaming • Movies
Recent Reviews
• Music Movie •
Big Star: Nothing Can Hurt Me - Read it

• Music Movie •
20 Feet From Stardom - Read it

• Sci-Fi Movie •
Avatar - Read it

• Alternative Music •
Everclear - In A Different Light Read it

• CD Music •
The Bushpilots - Seven Ways To Broadway Read it

• Live Music •
Craig Cardiff, Matthew Barber, Julie Fader - Live at Black Sheep Inn, Wakefield Quebec Read it

• Drama Movie •
Capote - Read it

• Drama Movie •
Brokeback Mountain - Read it

• Drama Movie •
Syriana - Read it

• Live Music •
Jim Bryson, Justin Rutledge - Live at the Black Sheep Inn, Wakefield QC Read it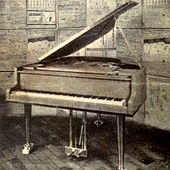 • MUSIC REVIEW (Alternative) •
Music Tapes
1st Imaginary Symphony For Nomad
Label: Merge / Touch & Go Released: 7/6/1999

This is not a CD for the faint of sound and all you Celine Dion fans may want to give this one a pass. Using instruments such as singing saws, vaccuum cleaners, accordions, banjos, horns and more traditional rock intruments, the Music Tapes create an interesting and somewhat creepy soundscape. This is not to say that this music is too "clever" for the masses. This is no Phish or Frank Zappa wannabe album. It's pop with a bunch of noise on top. Julian Koster is a great songwriter and whether its here or with his other band, Neutral Milk Hotel, the strength of the song comes through. That being said the uninitiated may want to get Neutral Milk Hotel's 'Airplane Over the Sea' first, its a little more accessible. Those who enjoy Music Tapes may also want to check out the Archer Micro Space Patrol or Jad Fair.
•Mike Lawson (TuneVault.com Staff) Email WWW
Back
Join the TuneVault.com mailing list!

Privacy Policy

TuneVault.com and all contents are
©1999-2006 TenVolt Consulting Inc.