Recent Reviews
• Music Movie •
Big Star: Nothing Can Hurt Me - Read it

• Music Movie •
20 Feet From Stardom - Read it

• Sci-Fi Movie •
Avatar - Read it

• Alternative Music •
Everclear - In A Different Light Read it

• CD Music •
The Bushpilots - Seven Ways To Broadway Read it

• Live Music •
Craig Cardiff, Matthew Barber, Julie Fader - Live at Black Sheep Inn, Wakefield Quebec Read it

• Drama Movie •
Capote - Read it

• Drama Movie •
Brokeback Mountain - Read it

• Drama Movie •
Syriana - Read it

• Live Music •
Jim Bryson, Justin Rutledge - Live at the Black Sheep Inn, Wakefield QC Read it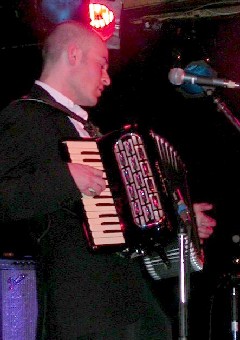 • MUSIC REVIEW (Live) •
Burdocks & Geoff Berner
Live @ Zaphod's Ottawa
Date: Monday March 24, 2003

Residing somewhere in the space where early Sloan, Jale and Eric's Trip form the foundations, Rush possibly is the ornamentation, and indie rock of the Superchunk and heavier side of Sebadoh are the supports, The Burdocks continue a long line of cerebral, sometimes oblique pop hailing from Canada's east coast. Maybe it's the proximity to the ocean, the rugged terrain, the often dismal economic situation, but this region seems to spawn some of the most harried yet inspired music, and The Burdocks are no exception.
Two guitars, bass and drums, and duelling vocalists soar from harmonious hooky heights to delirious raging fits, jangly guitar to head-pounding tom-tom rhythms, all delivered with unrelenting sincerity and precision. Their self-effacing social skills only added to the naive charm of an awesome set.
Opener Geoff Berner may as well be the Billy Bragg of the accordion - a solo set of material ranging from high-school pick-up artists to World War II, interspersed with rants about the Vancouver police, yuppies, and the big-screen TV in the bar, made for a continuously entertaining though occasionally deafening set. Berner's banter almost stood on its own - calling the audience in Calgary (and Billy Bragg who happened to be sitting next to him) no better than whores is a good indication of his subtlety, or lack thereof. Set to the backdrop of fairly standard song structures - acknowledged when "High-School Cruiser" became a medley including Oliver's Army, I Don't Like Mondays and Science Fiction Double Feature - Berner pounded and coaxed the songs out of his accordion, at times looking like a possessed Woody Harrelson.
The Burdocks:

Photos/layout ©2003 Stephen K. Donnelly, All Rights Reserved, not to be reproduced without permission.
Back