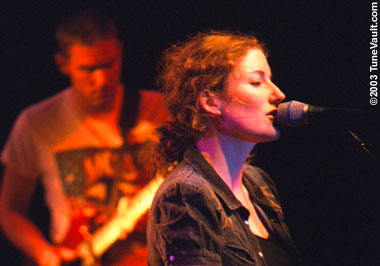 • MUSIC REVIEW (Live) •
Kathleen Edwards, Sam Roberts and Many More...
Canadian Tulip Festival 2003
Date: Monday May 19, 2003

This year's Canadian Tulip Festival, along with all those flowers, featured a stellar lineup of music for all tastes, as expected based on prior years. From big name acts like The Guess Who and Tom Cochrane (reunited with Red Rider) to perennial favourites Skydiggers and Danny Michel, the weather was super and the venue featured a great view of the Ottawa skyline and Parliament Buildings.
Regulars Skydiggers have played the festival so many times that artistic director Joe Reilly proclaimed Skydiggers to be the unofficial "house band" of the Tulip Festival, just as the Bluesfest has Tony D and the Folk Festival has Ian Tamblyn and Lynn Miles.
Bruce Cockburn, making up for a show missed last year due to "uncooperative" weather, played a long set of old and new material in the blazing mid-day sun, while up-and-comer Sam Roberts played a blistering evening set, keeping the crowd going with improvised jams and call-and-response chants.
Media darling Kathleen Edwards took the headlining role (last year she opened for Sarah Harmer) and played an energetic, if somewhat noisy, set accented by her accidental profanties which prompted the statement that "they'll be talking about that in the paper tomorrow." Slo' Tom, returning from a headlining engagement a few years back with his band Furnaceface, hosted the evening with some hurtin' acoustic numbers between the other bands' sets.
Big Sugar, another possible candidate for unofficial house band of the festival, finished off the week with their trademark reggae-infused blues-rock, marking the end of a week of great weather and great music.
For more photos see our Photo of the Day pages.

Back