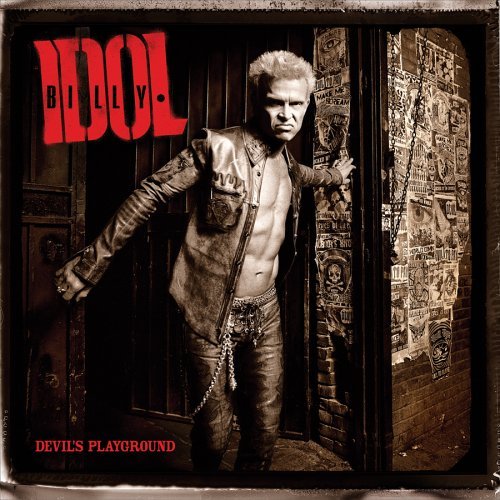 • MUSIC REVIEW (Rock) •
Idol, Billy
Devil's Playground
Released: 6/20/2005

From the first seconds of Devil's Playground, it is clear that Billy Idol is back, and with a vengeance. It has been 10 years since Idol has released a full album. Cyberpunk, released in 1993, was an ill-received attempt at a rock/electronica merger which was an anachronism in the age of grunge.
With Devil's playground, Idol recalls his punk roots, before he "Rocked the Cradle of Love", long before the lame "Mony Mony" infested dance-clubs everywhere. It seems the break has revitalized Idol as he snarls with uncommon ferocity from the opening seconds of the title track and explores some dark elements of his past with honesty.
The album is an almost unrelenting assault of power-pop hooks, punky tunes and old-school heavy metal licks that wouldn't be out of place sandwiched somewhere between The Offspring, The Darkness and Velvet Revolver. It even seems that the break has done some good for his voice, as he stretches beyond eighties baritone to sing some sweet-sounding melodies over the smooth and chunky mix of Steve Steven's guitar work, which alternately fills in beneath the vocals and leaps to the foreground in anthemic, metallic wailing and occasionally a little too retro (read: cheesy) solos.
While the title track establishes that Idol and Stevens are back to kick some butt, World Comin' Down establishes that Idol can still croon a power-pop tune with the best of them, while the track subtly recalls a hit from days gone by, "Dancing With Myself", in its guitar line.
The third track, Rat Race, slows things down a bit with acoustic guitar and a drum-loop beat but then kicks in full-force later in the song.
"Sherri" again conjures the "Dancing with Myself" guitar lick (must be Stevens' favorite) with a Mony Mony beat for a revitalized yet nostalgic feel.
Overall the mix of punky pop with mellower songs like "Plastic Jesus" and even a Johnny Cash-inspired number called "Lady Do Or Die", Idol has put together a solid album which reaffirms his ability to rock. Occasionally the self-referencial nostalgia is a little too obvious, as is the case of "Scream" which is almost a reworking of "Rebel Yell" right down to the rhythm guitar part. Then there is a Christmas song, complete with bells, but we'll forgive him that one.
Apparently sometimes a break from the pressure of the industry can prove to be re-energizing.
•Stephen K. Donnelly Email WWW
Back