Music • Gear • Studio • Gaming • Movies
Recent Reviews
• Music Movie •
Big Star: Nothing Can Hurt Me - Read it

• Music Movie •
20 Feet From Stardom - Read it

• Sci-Fi Movie •
Avatar - Read it

• Alternative Music •
Everclear - In A Different Light Read it

• CD Music •
The Bushpilots - Seven Ways To Broadway Read it

• Live Music •
Craig Cardiff, Matthew Barber, Julie Fader - Live at Black Sheep Inn, Wakefield Quebec Read it

• Drama Movie •
Capote - Read it

• Drama Movie •
Brokeback Mountain - Read it

• Drama Movie •
Syriana - Read it

• Live Music •
Jim Bryson, Justin Rutledge - Live at the Black Sheep Inn, Wakefield QC Read it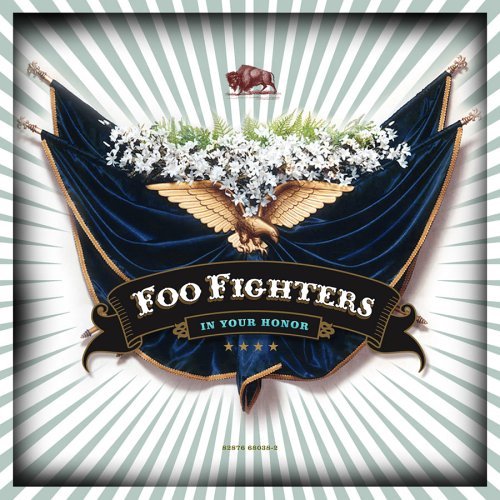 • MUSIC REVIEW (Alternative) •
Foo Fighters
In Your Honor
Label: RCA Released: 6/20/2005

Foo Fighters are back with a new double CD entitled "In Your Honor". Though the standard question does arise - "why not just take the best songs and release a single CD" - the Foos put out a solid effort. The first CD sticks to the straight and narrow, the power-pop infused with 70's rock and 80's melodies that have become the trademark Foo sound, with the usual layering of tons of chiming guitars and the driving rhythm section, Grohl alternatingly whispering and screaming the familiar-sounding yet fresh melodies.
The second CD collects the mellower songs, which on past efforts would have been interspersed between the louder ones. While this does give the listener the option of putting on the mellower or the louder of the two CD's, it tends to create a certain uniformity through the CD instead of opting for more variety or dynamic. The mellower songs feature a variety of guests including Petra Haden, John Paul Jones and Norah Jones.
Overall a solid if not ground-breaking effort and sure to garner some radio play and continue to build their fan base.
•Steve Donnelly (TuneVault.com Staff) Email WWW
Back
Join the TuneVault.com mailing list!

Privacy Policy

TuneVault.com and all contents are
©1999-2006 TenVolt Consulting Inc.