Recent Reviews
• Music Movie •
Big Star: Nothing Can Hurt Me - Read it

• Music Movie •
20 Feet From Stardom - Read it

• Sci-Fi Movie •
Avatar - Read it

• Alternative Music •
Everclear - In A Different Light Read it

• CD Music •
The Bushpilots - Seven Ways To Broadway Read it

• Live Music •
Craig Cardiff, Matthew Barber, Julie Fader - Live at Black Sheep Inn, Wakefield Quebec Read it

• Drama Movie •
Capote - Read it

• Drama Movie •
Brokeback Mountain - Read it

• Drama Movie •
Syriana - Read it

• Live Music •
Jim Bryson, Justin Rutledge - Live at the Black Sheep Inn, Wakefield QC Read it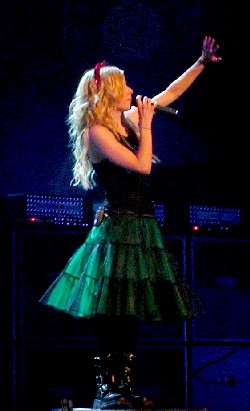 • MUSIC REVIEW (Live) •
Avril Lavigne
Live at the Corel Centre, Ottawa, ON Canada
Label: RCA Date: Thursday July 14, 2005

As Avril admonished the girls in the crowd to do three things, "be strong, stand up for yourself, and not let anyone push you around", one couldn't help but admire the fact that she is making a conscious, if somewhat vague, attempt to be a positive influence. But Avril, aren't those three things really all the same? Despite these occasional outbursts of feel-goodism, Avril belted out the hits and a few b-sides and lesser-known songs with enthusiasm, alternately romping around with a wireless mic or playing her black and white checkered Telecaster. Her voice was solid though occasionally nasal as she hit all the high notes effortlessly but lost a little wind on the low notes of songs such as Mobile.
Donning a green crinoline skirt over black tights and a black tank top with a skull and crossbones on the front, her long hair bleached and permed, apparently Avril is hanging onto her punky image a little longer while starting to a little more glamourous. She also threw on a pair of hallowe'en devil horns for the last few songs but besides that there were no other costume changes or theatrics.
After a short set of rockers to start off the night, a grand piano was rolled out and a chandelier lowered for versions of Together and Forgotten as she tinkled the ivories, after first recounting the story of her first appearance at the Corel Centre when she was 14, singing at a Shania Twain concert after winning a singing contest. A solo acoustic version of Nobody's Home and full-on cover of Green Day's American Idiot mixed things up a little in the second half of set.
The stage setup was a simple wall of amps, the drum kit perched in between. The giant black fabric backdrops were adorned with late 70's/early 80's punk styled logos that changed a couple of times during the night. The lights were interesting and effective, aided by four lighting guys perched in the rigging directly above the stage, focusing heavenly swaths of spotlight on each band member.
In the encore Avril sat at the drum kit and played a passable rendition of Blur's Song 2 with the guitarist from her band on vocals, then finished off with Complicated. Although she had plenty more material to choose from for a second encore, the crowd opted out and started heading for the doors as soon as the first encore ended, with nary a pair of clapping hands to be heard in the crowd of 15000 or so mostly teen and tween girls and their parents. All in all a solid set with a few less-heard numbers thrown in for some variation.
•Steve Donnelly (TuneVault.com Staff) Email WWW
Back