Recent Reviews
• Music Movie •
Big Star: Nothing Can Hurt Me - Read it

• Music Movie •
20 Feet From Stardom - Read it

• Sci-Fi Movie •
Avatar - Read it

• Alternative Music •
Everclear - In A Different Light Read it

• CD Music •
The Bushpilots - Seven Ways To Broadway Read it

• Live Music •
Craig Cardiff, Matthew Barber, Julie Fader - Live at Black Sheep Inn, Wakefield Quebec Read it

• Drama Movie •
Capote - Read it

• Drama Movie •
Brokeback Mountain - Read it

• Drama Movie •
Syriana - Read it

• Live Music •
Jim Bryson, Justin Rutledge - Live at the Black Sheep Inn, Wakefield QC Read it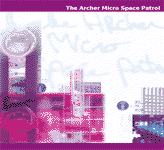 • MUSIC REVIEW (Alternative) •
Archer Micro Space Patrol
70 Hotel de Ville
Label: TuneVault Released: 11/4/1998

So I'm driving down the main strip in Gatineau, Quebec, in my new Jeep. The top is down and the Archer Micro Space Patrol's ep "70 Hotel de ville" is blasting from my 10,000 watt, atomic powered stereo. As I pull up to an intersection a guy in a purple Camaro rolls down his window and starts yelling at me. I turn down the music and nod my head.

"Hey, you fucking asshole" he screams with a french accent, "Close that goddamn shit down! I can't even hear nothing in my own car!"

I say "but sir, this is the Archer Micro Space Patrol and if I don't play it loud no one will ever hear it and human kind as a whole will be worse off."

"What?" he yells "Are you some kind of faggot?"

"It's got nothing to do with my sexual orientation" I say, "it's about being open to new experiences. It's about the industrial and technological sounds of the modern age coming together with simple lyrics and soothing melodies that even Celine Dion fans can understand"

With that his car shoots forward and screeches to a halt in front of me. The man jumps out, runs over to my vehicle and throws me helplessly to the ground. I manage to crank the music back up before I'm pulled from my jeep and just as the man is about to kick my head deep into my chest, he pauses.

The music enters his brain and he slowly comes to the realisation that this music is not just a bunch of noisy noodling. But that it has direction and feeling and can be understood by almost anyone willing to take the time to listen. As he is awakened he realises that he will not find this music in any record store and he doesn't own a computer so he reaches over me, pushes eject on my cd player, grabs "70 Hotel de ville" and leaves.
•Mike Lawson (TuneVault.com Staff) Email WWW
Back