Recent Reviews
• Music Movie •
Big Star: Nothing Can Hurt Me - Read it

• Music Movie •
20 Feet From Stardom - Read it

• Sci-Fi Movie •
Avatar - Read it

• Alternative Music •
Everclear - In A Different Light Read it

• CD Music •
The Bushpilots - Seven Ways To Broadway Read it

• Live Music •
Craig Cardiff, Matthew Barber, Julie Fader - Live at Black Sheep Inn, Wakefield Quebec Read it

• Drama Movie •
Capote - Read it

• Drama Movie •
Brokeback Mountain - Read it

• Drama Movie •
Syriana - Read it

• Live Music •
Jim Bryson, Justin Rutledge - Live at the Black Sheep Inn, Wakefield QC Read it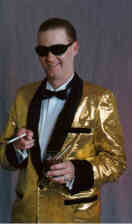 So I'm sitting in front of a beige screen surrounded on three and half sides by light blue fabric walls and the constant hum of environmental control dulls all sounds of life. As my passions and dreams are slowly sucked away I fumble through the pile of CD's I've brought to work with me, blindly open a case, push the eject button on my computer's cd drive and drop in a disk. I hear the whir of gears and for a moment the screen freezes up and then, without warning, I'm transported back in time. Back to the dawn age of cool. The ivories are tinkling, brushes are confidently dusting across the traps and suddenly my world gains an edge, a dirty, smoky, sweaty, alcoholic edge.

Over the next hour I live in a world where Frank, Sammy and Dean are king and Johnny Vegas is the gold-suited chauffeur who brought me here. His interpretation of songs that would have made me vomit in my Led Zepplin-inspired teens still stink but coming from Johnny the stink is good. I'm on the road, I'm on the Love Boat, I'm at the Copacabana, I'm flying to the moon and life is good again.

Sing on Johnny, sing on my saviour you've peeled back the plastic lid on my Tupperware life.

I've seen the light, I'm free again.
•Mike Lawson (TuneVault.com Staff) Email WWW
Back