Recent Reviews
• Music Movie •
Big Star: Nothing Can Hurt Me - Read it

• Music Movie •
20 Feet From Stardom - Read it

• Sci-Fi Movie •
Avatar - Read it

• Alternative Music •
Everclear - In A Different Light Read it

• CD Music •
The Bushpilots - Seven Ways To Broadway Read it

• Live Music •
Craig Cardiff, Matthew Barber, Julie Fader - Live at Black Sheep Inn, Wakefield Quebec Read it

• Drama Movie •
Capote - Read it

• Drama Movie •
Brokeback Mountain - Read it

• Drama Movie •
Syriana - Read it

• Live Music •
Jim Bryson, Justin Rutledge - Live at the Black Sheep Inn, Wakefield QC Read it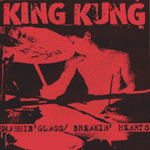 King Kung's live shows have been a beacon in the Ottawa scene for the past year or so, and they faced the always-formidable task of capturing the energy and spontaneity of their live show on record. Thanks to the unrestrained hand and technical skills of co-producer and engineer Mr. Dave Draves at Little Bullhorn studios in Ottawa, King Kung have met that elusive goal.

For those who have never experienced King Kung, musically they fall somewhere between the Stooges and Sonic Youth, with the occasional hint of Black Sabbath thrown in. They have a knack for writing some of the catchiest heavy pop songs ever. Though the vocals could be described by some as "nasal off-key whining and screaming" I prefer to describe them as "an honest, emotional delivery that suits the songs perfectly."

The poppier numbers include the live hit "Oragon & The Enemies of Rock" (I assume they mean Oregon), the tale of a departing member from King Kung's previous incarnation, The Waxies.

Other pop classics include "Sight of a Sound" (with a killer guitar riff), "Sober" (containing the quotable quote "you're gonna miss me when I'm sober") and "Weldatron", one of the more Sonic Youth-influenced mope-rock tunes.

As I mentioned, King Kung are a great live act, and this CD is an admirable representation of their set that you can take home with you at the end of a night of drinking and moshing. An important snapshot of the thriving Ottawa scene.
•Stephen K. Donnelly (TuneVault.com Staff) Email WWW
Back