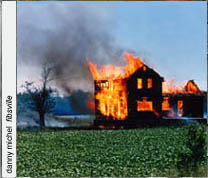 For those of you have been living in a cave (or out of town), Danny Michel, originally from London, Ontario, has been gracing the Ottawa scene with his crafty songwriting for a couple of years now. His Sunday night solo shows at The Manx pub on Elgin Street are always an entertaining conclusion to the weekend.
"Fibsville", his new self-produced CD, cleanly captures Michel's talent for clever word-play and his solid musicianship, with the adept aid of his Starling bandmates Ian Lefeuvre (on vocal and bass duties) and Peter Von Althen on drums. Exuding a Bowie-like cool self-confidence both live and on record, Michel's sound is captured on this CD with a clarity that evokes images of saliva on the lip as he catches his breath between phrases.
In a broad landscape of styles, with a nod to influences as diverse as the aforementioned Bowie, ex-Pixies frontman Frank Black and with sounds occasionally borrowing from the palettes of Canadian peers Blue Rodeo, Treble Charger and The Skydiggers, Michel displays his obvious enthusiasm for diverse musical styles (further evidenced by his choice of covers in his solo sets) yet manages to corral these sometimes divergent influences into a cohesive whole, thanks to his consistently strong melodies and absorbing vocal delivery. Although occasionally, and probably intentionally, straying into cliché-country - "I don't wanna be your fool... how could you be so cruel" ("Old Tattoo") - Michel just as often is writing next generation's cliches: "All your love came smashing down like an old coal mine" ("Coalmine"). And sometimes it takes a cliche to evoke an emotion everyone has felt a hundred times so you can't fault him that.
"Fibsville" is a carefully crafted collage of styles that blend seamlessly in the hands of a highly-skilled songwriter. A few highlights: "Coalmine" finds a Duane Eddy guitar break surfing into a dark guitar/vocal bridge into straight-ahead rock; "Hartley" integrates jazzy guitar and rinky-dink piano into a circus waltz of an ode to Wallace Hartley, doomed band leader of the HMS Titanic. "There's no way out," indeed. "Crawling over rocks on mars" (Souvenir) evokes some of the lyrical ambiguity of Beck in a steady rock number, while an occasional self-loathing reference ("Who Cares") surfaces in a mostly upbeat affair.
Fans of Michel's full-band shows and solo shows alike will not be disappointed thanks to the inclusion of favourites like "Whale of a Tale" (hasn't everyone heard one of these from someone perched on a barstool at closing time?) and the live versions of "The Graduation Present" and "Melt" which close off the album.
Michel obviously takes the crafts of songwriting and recording very seriously; the CD reflects an exacting attention to detail in the playing, recording, and right down to the "Just say no to random shuffle mode" warning on the packaging. If you pick up the CD, please give him the benefit of the doubt and listen as it was intended, in sequence, and prepare to be enthralled.
Another gem in a currently vibrant Ottawa scene; highly recommended.
•Stephen K. Donnelly Email WWW
Back