Recent Reviews
• Music Movie •
Big Star: Nothing Can Hurt Me - Read it

• Music Movie •
20 Feet From Stardom - Read it

• Sci-Fi Movie •
Avatar - Read it

• Alternative Music •
Everclear - In A Different Light Read it

• CD Music •
The Bushpilots - Seven Ways To Broadway Read it

• Live Music •
Craig Cardiff, Matthew Barber, Julie Fader - Live at Black Sheep Inn, Wakefield Quebec Read it

• Drama Movie •
Capote - Read it

• Drama Movie •
Brokeback Mountain - Read it

• Drama Movie •
Syriana - Read it

• Live Music •
Jim Bryson, Justin Rutledge - Live at the Black Sheep Inn, Wakefield QC Read it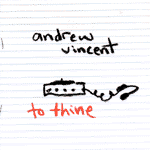 When Vincent longingly refers to a loved one with the line "never thought that she'd catch the eye of some other guy" it's easy to forget that he's talking about his brown seventies fold-up bike... this kind of odd juxtaposition permeates Vincent's most recent CD release, "To Thine".
Vincent writes folk music; I don't mean that in a bad way. "Folk music" as in uncluttered, unpretentious, capturing a moment or telling a story, devoid of unnecessary production or guitar solos. Does this make Nirvana's "Bleach" a folk album? I don't know. Comparisons to Canada's own Hayden, possibly the occasional Beck influence, and a vocal resemblance (especially live) to Lou Reed give you an idea of what this collection of simple yet evocative tunes holds in store.
When Andrew delivered this CD I was hoping it would be a full-band affair as I really enjoy his live shows. Strangely, I was not disappointed when it turned out the CD was mostly just him and a five-nylon-string guitar. Instead of trying to duplicate his live shows he has managed to create a complement to them, offsetting the lack of drums & bass with a clarity that lets his songwriting stand on its own, which it is more than capable of doing.
I have read accusations of Vincent being too sentimental which is an understandable impression based on lyrics like "it must have been grade 4, when I first heard Cum On Feel The Noize, Jump and Panama... those were my rock and roll days, I lived by my rock and roll ways, and that meant I had long feathered hair) (Grade 4); bands like Barenaked Ladies have tread into similar territory but "To Thine" avoids becoming grating thanks to Vincent's quiet, deadpan delivery and the genuine sentiments he conveys, even if they are directed at inanimate objects (Sleeping Bag, Brown Bike) or hair bands and the times they suggest. Occasional forays into slightly more experimental sounds and an occasional drum loop make for an interesting listen overall... one of my favourite albums of the past while and one that keeps returning to my CD player when others have been long forgotten. I can hardly wait for his new release, slated for some time in the (hopefully near) future.
Back