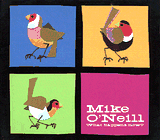 • MUSIC REVIEW (Pop) •
Mike O'Neill
What Happens Now
Label: Perimeter Released: 1/1/2000

So the other day my friend Simon 'the hammer' Cooper sends me an email telling me I'd better buy the new Sparklehorse CD or he's going to kill my dog! "Shit", I think, "the kids sure will be upset if they come home and find their beloved pet's mangled body hanging from the tire swing". So I pull on my summer parka and make the twenty minute trek through the blinding June-in-Ottawa snowstorm to the nearest record store.
A quick scan through the CD bins leaves me fearing for poor old Fido's life as I come to the horrific conclusion that said record is SOLD OUT!!! Since I am on lunch break and don't have time to go to another store and since I've already cashed in my food stamps, I decide to purchase something from another music artist. I spy the cover art of the latest Mike O'Neill CD,"What Happens Now?", and decide that the pictures of pretty little birds may distract Simon and instead of killing the dog he'll try to drown one of my fish or something.
With a heavy heart I return to work and throw my purchase into the CDROM drive of my PC and am instantly rejuvenated as a wash of jangly pop tunes fill my headphones. What with Beach Boy-ish backing vocals, current and former members of the Flashing Lights, the Superfriendz and the Rheostatics serving as the backing band and the lovely songwriting the former Inbred, O'Neill, how could my heart do anything but sing? It won't be long before you'll be seeing this guy at Edge Fest, or another rock fest with a side stage. Rating -- Pop, rock, cool. File under O for O'Neill.
I hope Simon doesn't find out about the Sparklehorse fiasco before my next payday.
•Mike "Spike" "Lawless" Lawson Email WWW
Back