Recent Reviews
• Music Movie •
Big Star: Nothing Can Hurt Me - Read it

• Music Movie •
20 Feet From Stardom - Read it

• Sci-Fi Movie •
Avatar - Read it

• Alternative Music •
Everclear - In A Different Light Read it

• CD Music •
The Bushpilots - Seven Ways To Broadway Read it

• Live Music •
Craig Cardiff, Matthew Barber, Julie Fader - Live at Black Sheep Inn, Wakefield Quebec Read it

• Drama Movie •
Capote - Read it

• Drama Movie •
Brokeback Mountain - Read it

• Drama Movie •
Syriana - Read it

• Live Music •
Jim Bryson, Justin Rutledge - Live at the Black Sheep Inn, Wakefield QC Read it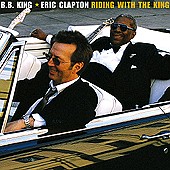 A few days ago, my wife and I were listening to some of her "Miss Thang" music.  After 20 excruciating minutes I turned to her and said that it was time for new speakers.  This statement was prompted by the fact that I felt the music could and should sound better than it did.  She responded by saying that it sounded fine, but if I felt an upgrade was in order, the decor should be kept in mind.  No big black boxes allowed!  Well, pooh.  

Now, I know what you're thinking.  You're thinking that people that listen to top 40 bubble gum music don't know anything about good sound.  On the contrary, she notices every little tweak I do.  So, I accepted her comment and we retired for a good night's sleep.  

The next day she and my little man - who's now 20 months old! - went to Montreal and were still out of the house when I got home.  I decided to take advantage of the solitude and put on my newest disc.  I selected track number 5 entitled "Three O'Clock Blues".  Then something hit me like a snow shovel in the face.  I think I've found my new demo disc.  Not because the bass was crisp and taut, or that the presentation was flawless, but because B.B. and Lucille sounded like they were sitting in front of me, slightly to the right of my chair.  I should know, for I saw them at Ottawa's Congress Center a few years ago.  If Clapton ever comes to town, he's of the top of my list of acts to see.  

A word of caution:  the title track sounds very Top 40.  Don't be alarmed.  Rest assured the rest of the disc is great.  Another word about presentation:  B.B.'s in the right speaker and Clapton's in the left.  I would love to see these guys together on stage!  Maybe I'll close my eyes again.  It's almost like being there.
•Omer Humayun [ ozenterprises.net ] Email WWW
Back