Music • Gear • Studio • Gaming • Movies
Recent Reviews
• Music Movie •
Big Star: Nothing Can Hurt Me - Read it

• Music Movie •
20 Feet From Stardom - Read it

• Sci-Fi Movie •
Avatar - Read it

• Alternative Music •
Everclear - In A Different Light Read it

• CD Music •
The Bushpilots - Seven Ways To Broadway Read it

• Live Music •
Craig Cardiff, Matthew Barber, Julie Fader - Live at Black Sheep Inn, Wakefield Quebec Read it

• Drama Movie •
Capote - Read it

• Drama Movie •
Brokeback Mountain - Read it

• Drama Movie •
Syriana - Read it

• Live Music •
Jim Bryson, Justin Rutledge - Live at the Black Sheep Inn, Wakefield QC Read it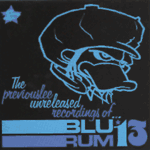 This album will no doubt garner some extra attention due to the fact that Kid Koala and DJ Vadim are on board, but it stands on its own as a cool jazz-hop (trip-hop? acid jazz?) album with a distinctive vibe. The slow grooves of "Non Sequitur" and "Estrogen Reign" set the pace for this mellow collection; the rhymes are smoothly delivered in a laid-back nasal drawl (no it's not Slim Shady!) - and with a sense of humour - that makes you want to put your feet up, close your eyes and relax. The beats are a standard collection of drum-machine sounds and loops with mellow jazz bass-lines, horn and guitar superimposed; the production is crisp and it sounds like there are even some real instruments in there but it could be samples. Either way this CD is a sure crowd-pleaser at your next house party or bar-mitzvah. Parental advisory: your parents might not like some of the lyrics. And that's a good thing.
•Steve Donnelly (TuneVault.com Staff) Email WWW
Back
Join the TuneVault.com mailing list!

Privacy Policy

TuneVault.com and all contents are
©1999-2006 TenVolt Consulting Inc.