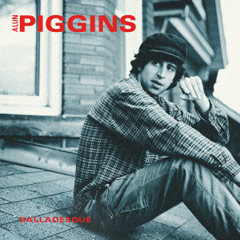 • MUSIC REVIEW (Rock - Roots) •
Piggins, Alun
Balladesque
Label: Moldy Floor Released: 1/1/2000

From the opening melancholy strains of harmonica this album is a breath of fresh air in a Slim Shady world. You may recognize the Piggins name as the former singer for The Morganfields, a now-defunct rock combo who toured and released an album or two. Pigguns released a solo cassette in 1996 and this is his first solo CD.
Piggins has shouldered full responsibility for this album by releasing it under his own name rather than a group's; luckily the album is an upbeat yet melancholy, rock yet country-tinged album that he surely is proud of. The songwriting is solid and Piggins' distinctive crooning and wailing, harmonies and occasional falsetto ("Abandon Me", "Out In The Woods") are solid and occasionally reminiscent of Peter Case, whom he cites as an influence. The songwriting and rootsy instrumentation will appeal to fans of the alt-country genre from the aforementioned Case to The Cash Brothers to Wilco to Jim Bryson to even the Pogues, and those who like to delve into the lyrics will not be disappointed. Slide guitar, banjo, harmonica are scattered liberally throughout, from mellow pop gems such as the opening track "Heading Out West", to the hard-driving and hypnotic "Eclipsing". The appearance of cello on "Rainstorm" is also a refreshing touch.
It's great to see (and hear) that despite years of struggle and too little recognition, songwriters like Pigguns, Edmonton's Mike McDonald, et al, persist and continue to deliver compelling and interesting music.
•Steve Donnelly (TuneVault.com Staff) Email WWW
Back