Music • Gear • Studio • Gaming • Movies
Recent Reviews
• Music Movie •
Big Star: Nothing Can Hurt Me - Read it

• Music Movie •
20 Feet From Stardom - Read it

• Sci-Fi Movie •
Avatar - Read it

• Alternative Music •
Everclear - In A Different Light Read it

• CD Music •
The Bushpilots - Seven Ways To Broadway Read it

• Live Music •
Craig Cardiff, Matthew Barber, Julie Fader - Live at Black Sheep Inn, Wakefield Quebec Read it

• Drama Movie •
Capote - Read it

• Drama Movie •
Brokeback Mountain - Read it

• Drama Movie •
Syriana - Read it

• Live Music •
Jim Bryson, Justin Rutledge - Live at the Black Sheep Inn, Wakefield QC Read it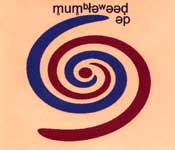 Ottawa rockers and rollers Mumbleweed are back with the all-too-short results of a one-day studio binge at Dave Draves' Little Bighorn studio (Werbo, Woodenstars). "The Weed" are in fine form on this 3-song outing, mixing their usual chunky guitars and vocal drawl into a metal-pop-punk fusion that almost defies comparison. Occasional hints of the poppier sides of Sonic Youth with hints of Motley Crue and Iggy Pop perhaps? I don't know art but I knows what rocks. And they have the confidence to yet again offer up a tasty instrumental track, a rare thing these days. This bite-size aural treat will leave you wanting more.
Back
Join the TuneVault.com mailing list!

Privacy Policy

TuneVault.com and all contents are
©1999-2006 TenVolt Consulting Inc.