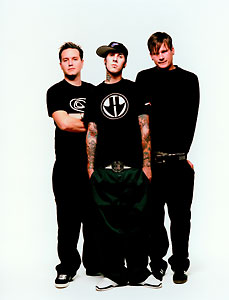 • MUSIC REVIEW (Live) •
Blink 182, New Found Glory, Sum 41
Edgefest II Ottawa
Date: Sunday August 26, 2001

The bands who actually managed to make it to Edgefest at the Civic Centre in Ottawa this year were in fine form, as can be attested to by the gaggle of screaming fans who rarely sat down in their hockey auditorium seats or who moshed and body-surfed on the rink surface in front of the stage.
After a delay due to either technical problems or "whores and blow backstage", depending on which of the band's stories you believe, Blink 182 were in fine form mixing their trademark toilet-humor banter with tightly-delivered songs from their last few albums. Guitarist-vocalist Tom Delonge spewed a steady stream of profanity and incest-related jokes between songs; at times it bassist-vocalist Mark Hoppus couldn't keep up with his band-mate, so instead he resorted to maligning Delonge by declaring himself more popular or knocking down Delonge's mic stand and stating that the crowd prefers it when he doesn't sing. The constant reference to the crowd as "kids" was a bit unsettling for those of us over 20 but the reference was probably correct for 90% of the 6500 or so in attendance.
Between the childish "wit", all the rock hits were there including "All The Small Things", "Adam's Song", "What's My Age Again", "The Rock Show", "Dammit" and more. A Descendents covered was an entertaining attempt to provide some punk-rock credibility but was unneeded – no one except maybe themselves cares whether these guys are punk or not, they just need to play the hits and keep 'em coming, which they did. Though sometimes looking (or sounding, via an occasional flubbed guitar riff) a bit tired, Blink managed to keep the energy levels high, admirably using the full stage to appear larger than a mere three-piece. Their own on-stage energy and chemistry was then amplified to cartoon-like proportions by a barrage of pyrotechnics – almost a dozen huge flame-throwers, cannon-like explosions and flash-pots, Mardi-Gras sparkler fireworks and confetti cannons, and a huge flaming "FUCK" sign which started and ended the set – as well as a spectacular, sometimes dizzying light show which would not be recommended for the epileptic. Luckily the boys stuck to their safe areas of the stage (conveniently marked with fluorescent red tape) and avoided any burns. As far as we know.
Not to be outdone by his band-mates' antics, drummer Travis Barker had his time in the spotlight by performing an extended mid-set drum solo while his drum riser drove, tank-like and flaming, to the front of the stage, then rotated back and forth showing off his tattooed torso to adoring fans in the general admission section. His drum solo was a reminder that the insane skills and often stunning playing of Barker were often the only thing holding the band together. And that perhaps Blink aspires to the cheesy rock-and-roll thrones (toilets?) previously held by Kiss, Motley Crue, et al.
New Found Glory played an admirable set leading up to Blink. Despite the fact that they are less well-known in these parts than Sum 41, they kept the crowd entertained and wanting more through a solid set of crunch pop numbers capped with their semi-hit "Hit Or Miss". Unencumbered by a guitar, singer Jordan Pundik strutted around the stage and struck enough punk-rock/Backstreet Boys poses to drive the girls wild. NFG's set was only marred by the troll-like bass player Ian Grushka's removal of his shirt early on. But that's just rock and roll.
Warming up for NFG was Hamilton's Sum 41, fresh from a stint in the US now that their song "Fat Lip" is getting a second life on the "American Pie 2" soundtrack. They lived up to expectations with a solid mix of punk-pop and an occasional dash of hip-hop to keep things interesting. Drummer Steve Jocz ("Stevo 32") and singer-guitarist Deryck Whibley exchanged duties on a few songs to keep things interesting, and the hits "Makes No Difference" and "Fat Lip / Pain for Pleasure" (as paired in their most recent video) admirably showcased the band's talent for catchy song-writing and crunchy riffs. After this set it was a wonder why they weren't the penultimate band but New Found Glory did do a good job of filling the slot.
Project Wyze, a rap-metal band from London, ON, opened up the show.
As seems to be the rule rather than the exception these days, the sound ranged from barely acceptable to completely awful. Is this a sign of the abilities of the crew or the equipment? I'm not sure but I would think they would have ample time to set-up and check everything, yet the vocals for the last three bands were often unintelligible and in all three cases completely inaudible at the beginning of their sets. In the case of Blink 182 singer-bassist Hoppis, it was almost as if someone was sliding the volume control for his vocals up and down in a regular pattern: his vocals would be clear and loud for a few seconds, then buried in the mix, then loud again, over and over. Obviously these guys aren't crooning Tony Bennett-style Vegas tunes but the point is that they're supposed to be melodic punk rock, and what's melodic without vocals? Sorry guys, there are no keyboards here to carry the melody… the vocals need to be there. Also the kick and snare drums were often inaudible except during Blink 182's set. Maybe there's an unwritten rule that opening bands can't have loud drums? Yet they're allowed to have really loud guitars and hi-hats? Makes no sense to me. I would expect more for $40 and judging by the reviews of the previous show in Toronto, this is an ongoing problem that the Edgefest people should sort out.
Unfortunately, the last-minute cancellation of 3 of the 7 bands in this year's Edgefest line-up came as quite a shock to the fans who were looking forward to seeing Millencolin, Jimmyeatworld or Good Charlotte, all of whom were unceremoniously deleted from the line-up less than a week before the show due to "scheduling difficulties". The official response of "we said all along that the line-up was subject to change" didn't do much for the credibility of this supposedly "punk-rock" show, nor did the resistance to refunds for those who wanted them after the eleventh-hour line-up pruning. But you can't fault the bands for the corporate "fuck the fans" mentality of the promoters, only made worse by the fact that the upcoming Snow Jam show features 10 bands for $10 while Edgefest was $40 for, ultimately, 4 bands. Still a worthwhile investment but not exactly what people initially doled out their $40 for.
Back