Music • Gear • Studio • Gaming • Movies
Recent Reviews
• Music Movie •
Big Star: Nothing Can Hurt Me - Read it

• Music Movie •
20 Feet From Stardom - Read it

• Sci-Fi Movie •
Avatar - Read it

• Alternative Music •
Everclear - In A Different Light Read it

• CD Music •
The Bushpilots - Seven Ways To Broadway Read it

• Live Music •
Craig Cardiff, Matthew Barber, Julie Fader - Live at Black Sheep Inn, Wakefield Quebec Read it

• Drama Movie •
Capote - Read it

• Drama Movie •
Brokeback Mountain - Read it

• Drama Movie •
Syriana - Read it

• Live Music •
Jim Bryson, Justin Rutledge - Live at the Black Sheep Inn, Wakefield QC Read it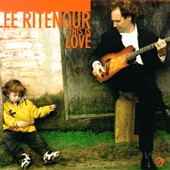 My son is 11 months old. He likes listening to music with me. It's funny how kids are unbiased. One could say that they make the best critics. So why do they like schlock like the Spice Girls? I guess we'll never know. But, every time I play Lee Ritenour's latest offering, my kid smiles ear to ear and his arms start moving up and down to the beat.

Ritenour's last release, titled Wes Bound was an incredible tribute to Wes Montgomery superbly recorded by GRP Records. His new disc titled This Is Love starts off by paying tribute to the late great Bob Marley with a sampling of "Is This Love". The mood of the disc changes with each track but maintains a light reggae flavour and exhibits all of Lee's talents as a superb jazz guitarist, not to mention the reference quality recording by i.e. Music. If you know what musical instruments are supposed to sound like - this album will put your system to the test. The snare drum has snap and the horns have bite. The disc closes with a beautiful version of Pavane, a piece originally written by Gabriel Faure. Incidentally, my wife hates jazz (with the exception of Diana Krall, who doesn't like Diana?) but always bops when I play this disc.

So if you like good instrumental jazz guitar that's slickly produced - BUY THIS DISC!
•Omer Humayun (Contributing reviewer) Email WWW
Back
Join the TuneVault.com mailing list!

Privacy Policy

TuneVault.com and all contents are
©1999-2006 TenVolt Consulting Inc.