Music • Gear • Studio • Gaming • Movies
Recent Reviews
• Music Movie •
Big Star: Nothing Can Hurt Me - Read it

• Music Movie •
20 Feet From Stardom - Read it

• Sci-Fi Movie •
Avatar - Read it

• Alternative Music •
Everclear - In A Different Light Read it

• CD Music •
The Bushpilots - Seven Ways To Broadway Read it

• Live Music •
Craig Cardiff, Matthew Barber, Julie Fader - Live at Black Sheep Inn, Wakefield Quebec Read it

• Drama Movie •
Capote - Read it

• Drama Movie •
Brokeback Mountain - Read it

• Drama Movie •
Syriana - Read it

• Live Music •
Jim Bryson, Justin Rutledge - Live at the Black Sheep Inn, Wakefield QC Read it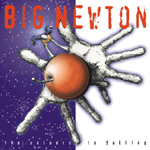 • MUSIC REVIEW (Rock) •
Big Newton
The Universe Is Falling
Released: 12/15/2001

The opening strains of "Lost" present a jazz-funk-pop musical melding with vaguely Elvis Costello-like vocal drawl and an eighties feel, but then the keyboard solo kicks in and we're transported to a Doors-era early 70's feel, then into an early-Genesis prog-rock middle section... With thoroughly modern and slick production Big Newton takes these disparate influences and sounds and takes the listener on a groovy musical journey mostly revolving around a 70's groovy soul-rock sound... Ably produced by local mixmeister Ross Murray (Alex Houghton, Cheza) the CD effectively showcases the band's guitar-based sound, smooth harmonies and solid rhythms. The band cites The Beatles, Stevie Wonder, Zeppelin and Iron Maiden as influences - the first two we can see (especially Wonder) but the last two are a bit of a stretch. Their light jazz-pop sound may be just the break you need from the Korn and Eminem-centric radio dial.
Back
Join the TuneVault.com mailing list!

Privacy Policy

TuneVault.com and all contents are
©1999-2006 TenVolt Consulting Inc.