Full Details of Selected Story: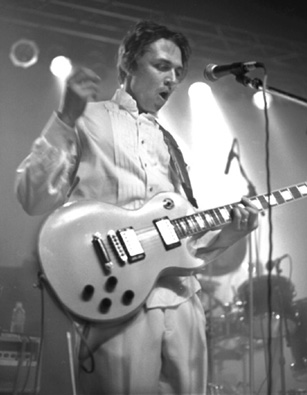 Tripping Daisy Guitarist Dies
Tripping Daisy guitarist Wes Berggren was found dead in his apartment Wednesday, Oct. 27.
According to the Dallas Morning News, Berggren, 28, and his wife, Melissa, went to bed around midnight on Tuesday. When Ms. Berggren awoke, her husband was dead. Authorities have ruled out foul play, and are awaiting results of toxicology tests to determine the cause of death. Berggren's wife discovered his body.

"He was just a sweetheart of a guy," Tripping Daisy bassist Mark Pirro tells the Morning News, while drummer Ben Curtis says the band hasn't made any decisions regarding its future. "We haven't even thought about it," quotes the paper. "This is the last thing that anyone expected. Wes was the sort of guy things always worked out for. He was one of the smartest guys I knew — a real brain. It's such a big loss that he won't be able to explore his talent further."

Tripping Daisy formed in Dallas in 1991, releasing its first album, Bill, a year later. The neo-psychedelic outfit signed with Island Records, releasing I Am an Elastic Firecracker in 1995, and Jesus Hits Like the Atom Bomb in 1998. Though the latter garnered positive reviews, it didn't fare well commercially, and the group was dropped from the label following last year's Universal/Polygram merger.

The band was scheduled to play shows in Denton, Texas (Nov. 7) and Dallas (Nov. 12-13). There was no word at press time as to whether those shows would go on.
Tripping Daisy Home Page
Back to Index