Full Details of Selected Story: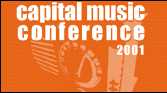 CAPITAL MUSIC SHOWCASES 2001
Ottawa's best bands and musical artists will be showcasing for music industry representatives as part of the national capital region's annual music conference, Capital Music Conference 2001.
The conference and showcases will take place July 13-15, 2001 as part of Ottawa's largest music festival, Cisco Bluesfest. Showcase venues include the Capital Music Showcases stage at Bluesfest, plus late night showcases at selected Ottawa club venues, as part of the Bluesfest after hours activities.
Approximately fifty bands and artists from all styles of music will have this unique opportunity to play for and network with music industry people who will be in town to participate in Capital Music Conference 2001.
Apply Now!
See who played last year